Impressive titles and important jobs will be yours to choose from!
Criminal Justice is offered at Kirtland Grayling.
Career Opportunities
Median Salary (2020) in Michigan: $65,540
Employment growth trends (2016-26): 5% to 10%
The median salary for career opportunities from this program according to O*NET Online.
What will you learn?
You'll learn what it takes to serve in law enforcement. This program will prepare you to fill a job that's open now in communities across the country. You'll learn why our Criminal Justice program exceeds state requirements.
Logan Bewley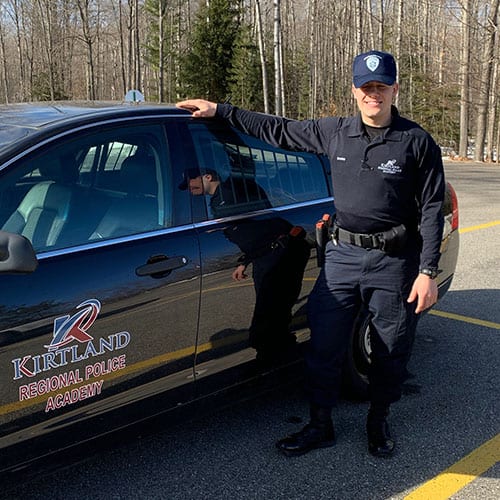 I always wanted to go into law enforcement. I took the CJ pre-service here because Kirtland is local. The instructors are very informative, helpful, personable and knowledgeable.  The smaller classes mean you don't get lost in the crowd and the training is a lot more one-on-one. If you have questions, there is always someone there to help. All instructors are police officers from the area and speak from personal experience. They know the culture of the communities and work with you toward an end goal of success.
Logan B.
Criminal Justice: It's all about choices!
So you want to be a cop? Our Criminal Justice Pre-Service AAS program will prepare you to serve as a local police officer, sheriff deputy or in a local (city or county) law enforcement agency.
When you're done with your AAS in Criminal Justice Pre-Service and graduate from our Regional Police Academy, if you want to pursue additional careers in criminal justice, you can seamlessly transfer to a four-year college or university to continue your education in law enforcement.
You'll be able to choose from careers in corrections, the Department of Homeland Security, or serve in a non-police law enforcement capacity. You'll transfer to a four-year college or university to finish a degree in law enforcement.
This program is for people who are:
interested in serving (period)
willing to train for critical positions
ready to become worthy of important titles they'll hold
open to being trained by people with incredible reputations
Create your career path!
You'll have a lot of choices if you choose the path to complete your four-semester Associate in Applied Science in Criminal Justice through us. You might choose to serve in law enforcement as a local police officer, or transfer after you graduate and continue your education to become a corrections officer, an investigator, work in court or administrative services, or concentrate on juvenile justice.
Regardless of which path you choose, we'll make sure you've honed communication skills, critical-thinking skills, and investigative techniques. You'll be ready to consider positions in city and county law enforcement agencies.
According to the U.S. Bureau of Labor and Statistics, police officers and detectives earn a median salary of $63,380. The field has a 7% job growth outlook through the year 2026.
The jobs available in Criminal Justice are plenty, and graduates of our program are confident they will find their names at the top of the list of potential hires for open positions.
You will be ready!
Because you're considering serving in a criminal justice capacity, you have particular qualities needed in communities around the country. We'd like to support you by offering the best of the best: Our criminal justice program boasts the best instructors in the country, and it exceeds state requirements.
If you successfully complete the 63-credit curriculum necessary for our Criminal Justice Pre-Service associate degree, you'll join the proud ranks of our graduates discovering how easy it is to land the job they wanted or continue on to earn their bachelor's degree in criminal justice.
If you're planning on transferring to complete a degree at a four-year school, it may be notable that our transfer process is absolutely seamless. We have staff members dedicated to helping you navigate the process. Between now and then, you'll save a lot of money and tap into training delivered by the best of the best.
If you decide to become a law enforcement officer, you'll need to apply for the Kirtland Regional Police Academy. After 17 weeks of training, you'll be ready to pass your Michigan Commission on Law Enforcement Standards (MCOLES) licensing exam. We can't guarantee you'll pass, but we probably should — because we've had a 100% MCOLES pass rate for a decade.
Invest a few short months in the Police Academy and be ready to take the MCOLES test. Prepare for your future now! You could find yourself thriving in a job that taps your instincts and desire to serve. If you're still reading this, odds are high you could get a great job with awesome pay and start a lifelong career.
What's distinctive about our AAS Criminal Justice program?
It's an Associate in Applied Science degree you can put on your resume now and choose to transfer to four-year school later.
It's designed so you can go get a job when you're done or seamlessly transfer.
It is the foundation for careers in corrections, court and investigation.
Trainers have real-world experience and deep resumes.
You'll save a lot of money because our tuition rates are one-third the cost of other colleges and universities!
Ready to get started?
You'll develop a strong foundation and learn from experts in Criminal Justice. Get started today. Our admissions, registration, advising and financial services staff are ready to help you now!