Welcome to Kirtland Community College! We appreciate the sacrifices our armed forces have made on behalf of our country and the dedication and commitment they have made to help ensure the freedoms we enjoy as Americans. Kirtland Community College is proud and honored to have you consider us as your college of choice.
Jennifer Lester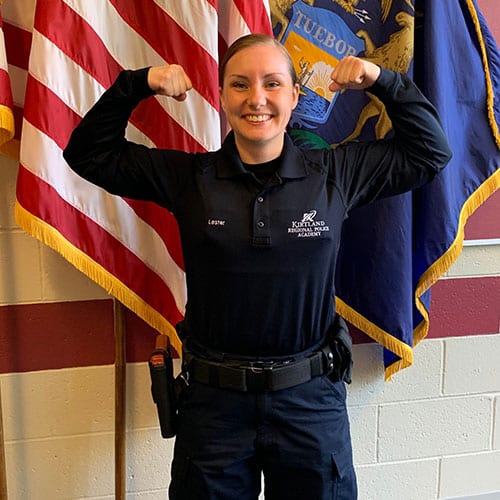 I first started out in the military service which is what made me want to go into public service to begin with. I wanted to become a police officer so I went though Kirtland's Criminal Justice program and enjoyed going through all the classes. I want to make a difference, not only for my success but to help others succeed as well.
Jennifer L.
We understand attending college can be a big transition and we are committed to doing everything we can do to make your educational experience a success. Please take advantage of the information included in the links on this website to help you find the services you need to assist you in your educational journey. We are dedicated to providing outstanding services to help veterans, service members or eligible family members of veterans achieve your academic and personal goals.
The Student Financial Services department is the certifying office for Kirtland Community College. For questions about specific benefits and eligibility please visit the following website: https://www.va.gov/
Credit may be granted for military education. Veterans who have received military training that they believe may transfer may submit proper documentation to be reviewed by the Registrar. Students who have served in the armed forces can request a copy of their military transcripts through the Joint Service Transcript website at https://jst.doded.mil/official.html.
Eligibility for Department of Veteran Affairs (DVA) educational benefits rests solely with the DVA. You may contact them by calling (888) 442-4551 or visiting the U.S. Department of Veterans Affairs eBenefits website.
Next Steps
To get started at Kirtland Community College:
Veterans Affairs Education benefit overview
How to pay for college with Veterans Educational Benefits
Contacts
Certifying Official - Kemmoree Duncombe
kemmoree.duncombe@kirtland.edu
989-275-5000 ext. 310
Certifying Official -Marilyn Cole
marilyn.cole@kirtland.edu
989-275-5000 ext. 384