Let the best train you to be your best — and serve!
Kirtland Regional Police Academy is offered at Kirtland Roscommon.
Career Opportunities
Median Salary (2018) in Michigan: $57,690
Employment growth trends (2016-26): 5% to 9%
Median Salary (2018) in Michigan: $57,690
Employment growth trends (2016-26): 5% to 9%
The median salary for career opportunities from this program according to O*NET Online.
What will you learn?
You'll learn what it takes to be a police officer. You'll learn how to respond to demands placed on law enforcement officials. You'll learn how to handle situations and weapons. This highly regarded program will prepare you to fill a job that's open now. You'll learn what you need to know to get hired, serve — and explore career choices you might consider later.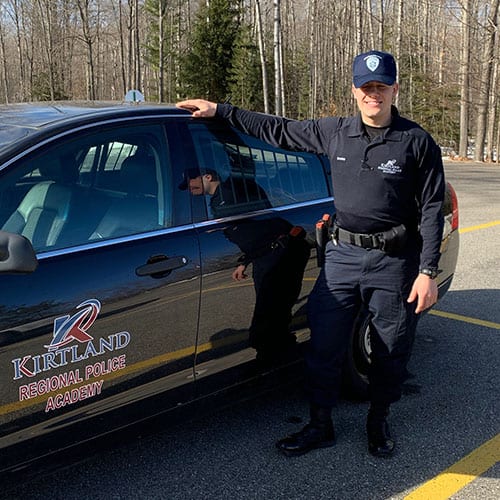 I always wanted to go into law enforcement. I enjoy helping the community, getting involved and working with the younger kids to help them figure stuff out. I've been there and can share what I've learned with them.
I took the CJ pre-service here because Kirtland is local. The instructors are very informative, helpful, personable and knowledgeable.  The smaller classes mean you don't get lost in the crowd and the training is a lot more one-on-one. If you have questions, there is always someone there to help. All instructors are police officers from the area and speak from personal experience. They know the culture of the communities and work with you toward an end goal of success.
Logan B.
Complete your Police Academy training through us!
Our Regional Police Academy is designed for more than just training officers. We give you instructors considered to the best of the best at training and teaching. We promise to prepare you for success.
This program is for people who are:
interested in serving via law enforcement or emergency response
willing to learn while they train
ready to become part of a family of successful graduates
willing to improve with the guidance of expert trainers and instructors.
Train. Choose. Serve.
There are several ways you can enter our Regional  Police Academy:
As the last semester of our Criminal Justice Pre-Service AAS program.
Being sponsored by a law enforcement agency.
If you already have an associate degree or higher in any subject and want to become a law enforcement officer.
If you qualify for a Military Police educational waiver from MCOLES.
As the last semester of your CJ program with one of our partnering colleges.
With a median salary at $63,380 and a job growth outlook between now and 2026 at 7% for police officers and detectives (according to the U.S. Bureau of Labor and Statistics), your investment of time and money will be worth it.
The jobs available for graduates of our Regional Police Academy are abundant, and those continuing on to specialized fields find our training has served them well. Employers are confident when hiring our graduates because they are familiar with the long-term success and caliber of our program.
You WILL be ready!
Whether you want to join the ranks of police officers or simply have to check the "police academy" box on your criminal justice journey, we are going to train you to be ready.
Our academy exceeds state requirements for police academy core curriculum. We are committed to having you join the ranks of our graduates who have passed the Michigan Commission on Law Enforcement Standards (MCOLES) licensing exam.
The success of our program has been propelling our graduates for years. Our Regional Police Academy graduates have achieved a 100% MCOLES pass rate during the past decade.
We feel as though it is our duty to prepare you to serve in a community of your choice in whichever capacity you choose. Agencies around the country are looking for people trained by us.
What's distinctive about our Regional Police Academy?
Did you notice the 100% MCOLES pass rate?
The mix of classroom and hands-on work produces results.
Our state-of-the-art multi-screen interactive simulator and a remote-controlled LIVE FIRE target system make training legitimately modern.
Instructors are experts in the field — and work in it!
Ready to get started?
You'll have your foot in the door quickly because our program's reputation will have preceded you. Get started today. Our admissions, registration, advising and financial services staff are ready to help you now!